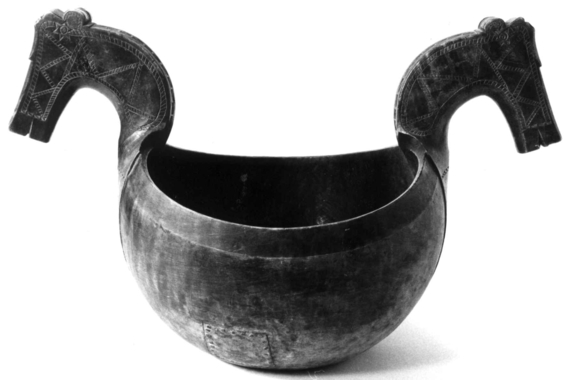 Today, most people limit their drinking from bowls to the sipping of cereal milk, but there is a long tradition of drinking from bowls.  Ale bowls are a rich part of that tradition. I have done a little research into carved ale bowls such as the one above recently.  Even though I don't focus on making reproductions, I think there are many lessons in carving and design in a piece like this if one just looks carefully, lessons that go beyond the specific piece.
There are subtle master touches that catch the eye.  In the photo above, for example, just look at the way the thin upper edge of the rim steadily rises, broadens, then quickly returns toward the center.  Lovely.  I feel like the man who carved this is smiling at us from the past.
I already have a couple small ones underway (but no photos yet), trying to better understand the form and effective techniques while thinking creatively about design possibilities.  As my research continues, I thought I'd share a couple resources I've encountered.  I'd also welcome more information.  I know there are many folks out there more steeped in Scandinavian culture than I have been.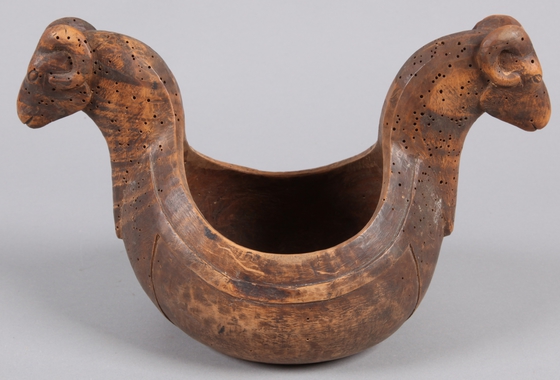 It appears that this general carved form was quite popular, especially the 18th and 19th centuries in Scandinavia (particularly Norway). It is clear by the surviving examples that many carvers were creating their own variations of a common design.  The horse-head theme seems to be most common, while others feature dragons, rams, or other animals.  One of the more common variants are birds, such as the ale goose or ale hen.
Sizes vary from large enough to pass around a large group, as was indeed a custom, to much smaller individual drinking bowls.  Just take a look at the many well-documented examples here at the Digital Museum, an online site featuring photos and information on an impressive collection of Scandinavian artifacts from many brick-and-mortar museums. The few photos I have used for this blog post are just a sampling of what is available to view there.
Like me, you will probably find that some of the specific designs are more pleasing than others.  Asking oneself, "What are the elements that make this one more pleasing to my eye (or hands, or mouth) than that one?" is a key to learning from these examples as a general lesson in design.  Many times these differences are subtle but quite consequential. The same sort of question can be asked when comparing many things from furniture to cars.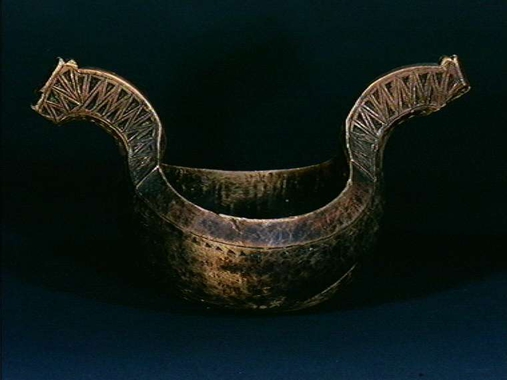 From a carver's standpoint, my first question is the orientation of the piece within the log.  Judging by the grain visible in some of these pieces, burls — or at least wood with figured grain — was often used, presumably to guard against splitting in a design prone to it.  There are obvious weak areas of short end grain at the base of the neck and face.  In fact, there are plenty of examples in the digital museum of those that did break.  Many of those bear repairs that speak to the special value of these wooden bowls.  Just look at this example below — now that's tenacity!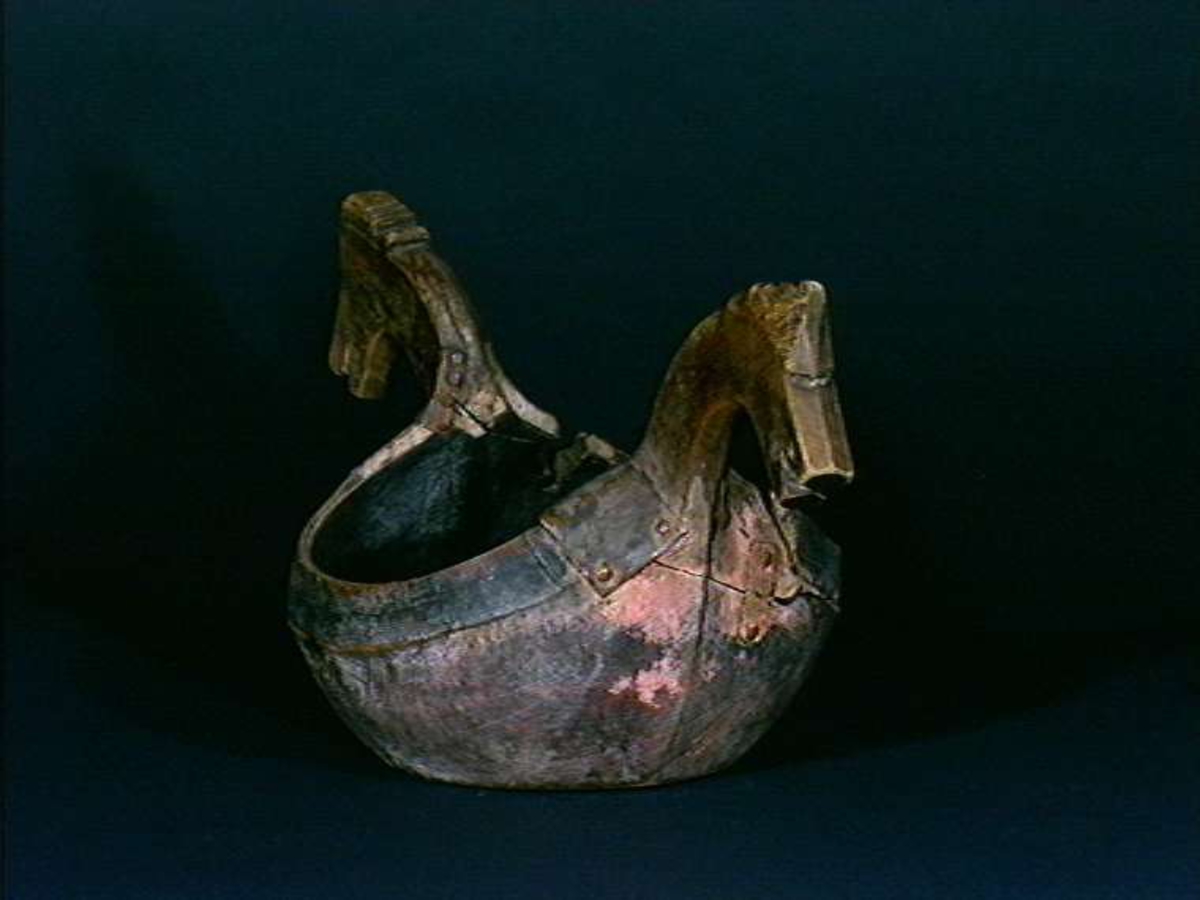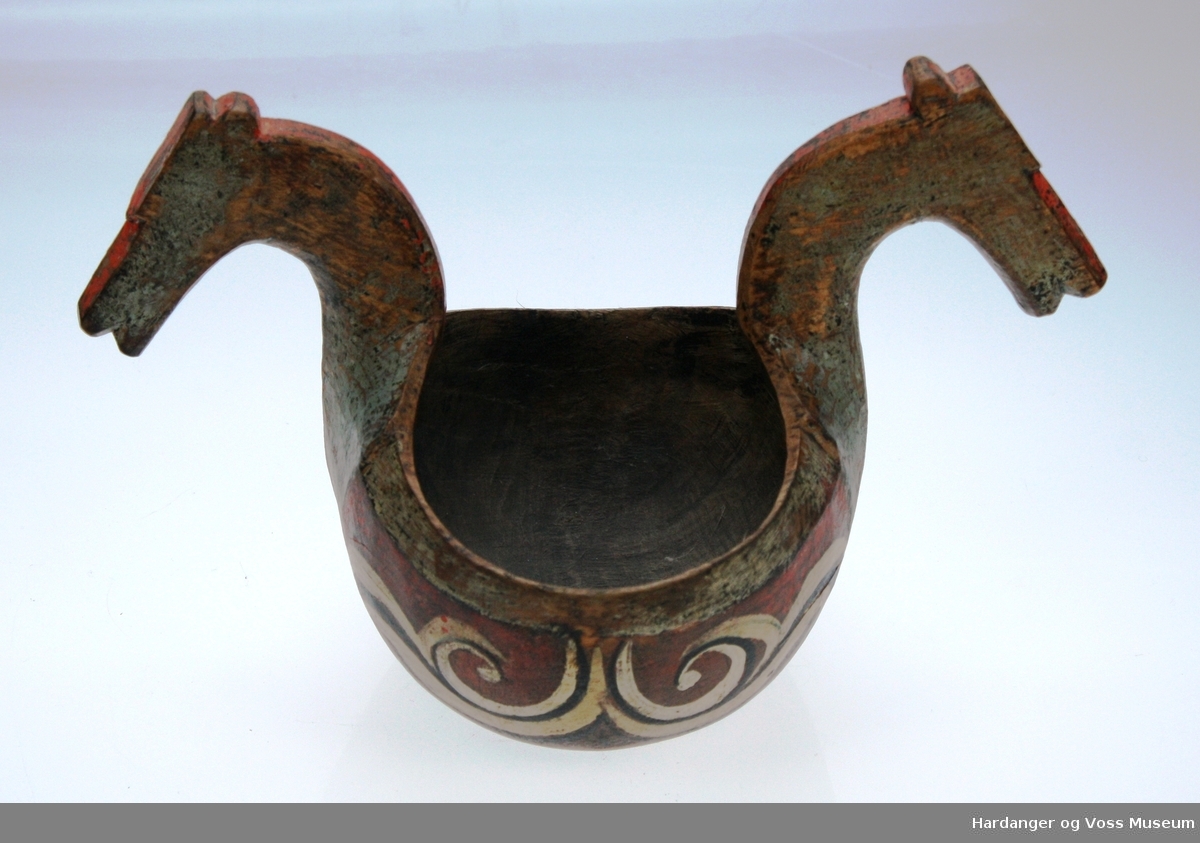 I also noticed that some seem to have been carved from crooked logs.  You can see the grain rising away through both horse heads.  Initially I wondered if there might have been some steam bending after the bowl was carved; with the horse heads flexed back and in toward the center of the bowl.  I don't think that would be possible, considering the end-grain orientation of the area stressed while bending, but it's just a thought.  I know that the sidewalls of some dugout canoes were bent after carving to widen them, but this feat would be very different.
I hope to study some original ale bowls in person sometime.  The Vesterheim Norwegian-American Museum has many in their permanent collection.  Chief Curator Laurann Gilbertson was very helpful when I contacted her recently.  In addition to encouraging a visit to Vesterheim, she informed me of a traveling exhibit related to Scandinavian ale and spirits traditions called "Skål! Scandinavian Spirits."  The exhibit schedule is at that link. Laurann also informed me of this accompanying publication of the exhibit.  I've learned much from it, including the translations of some of the painted inscriptions that appear on the bowls.  Some are as simple as "Drink my friend, pass it to your neighbor then," and some more reflective: "Previously I was standing in the green grove (of trees), and no one might know me, now I satisfy many a thirsty mouth."
Here's to ale-bowls.  Skål!